YouTube Gaming
Edit
YouTube is already a big player in live video and gaming. As of today, Google is promoting the intersection of the two with YouTube Gaming, a dedicated site and separate app that's supposed to directly compete with Twitch's popular streaming platform. YouTube Gaming is a more obviously gaming-focused version of the standard interface; the announcement post billed it as a place where "you can search with confidence, knowing that typing 'call' will show you Call of Dutyand not 'Call Me Maybe.'"
In practice, the problem YouTube Gaming needs to solve isn't separating video games from Carly Rae Jepsen (who has a small but respectable place in its search results, thanks to a Just Dance 4 track and some Minecraft parody songs.) It's separating the different kinds of gaming content that's easily available on YouTube. And in that, it succeeds — which might be all it needs to do.
While you're watching a stream, YouTube Gaming looks more like a Netflix-style video service (or YouTube's mobile app) than its vanilla counterpart does, though the components are similar: you can see comments on the side, give a streamer a thumbs-up or thumbs-down, and subscribe to their work.
The real difference is organization. It's possible to look for live content, or gaming content, on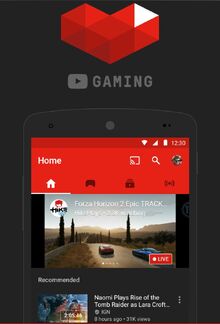 YouTube, but narrowing it down from there involves either searching for exact terms, cycling through some broad categories, or clicking randomly. In YouTube Gaming, there's a list of trending games down one side, and "featured" channels down another. There are landing pages for specific games, dividing their results into categories like pre-recorded "let's play" videos, popular videos, and live shows.
The service will be organized around over 25,000 unique "game pages," each dedicated to a specific title. Users will be able to add games of interest to their "collection" in order to receive notifications whenever new content related to that game is available. Users will also be able to follow the channels of individual YouTube creators and some game companies.
If you want to use YouTube Gaming with simple interface and in mobile then you can download Youtube gaming app from App store or Google Play Store.