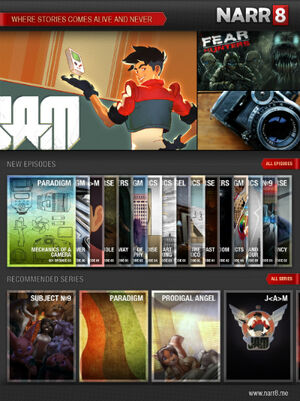 NARR8 is a cool app that offers an extensive library of innovative and exciting multimedia content in the form of motion comics, interactive eBooks, and edutainment (educational entertainment) that comes alive with dynamic animations, colorful special effects, and full music soundtracks with a single tap of the touchscreen.
The app was launched on Android, and it also has hit #1 entertainment app & the top ten free iPad list after launching all-new interactive features and collectible items in the free 1.1.0 update!
Also, to celebrate Valentine's Day, NARR8 released a brand-new, special-edition series! The new Valentine's Day series features a collection of exclusive holiday-themed episodes from NARR8's regularly-scheduled series, such as Multiverse, Fear Hunters, and Prodigal Angel. You can now share a whole new world of romantic adventure comics, thrilling interactive novels, and even some enlightening nonfiction with someone special!
Have you checked this new series out yet??
What do you think of the Valentine's Day series on Narr8?
BONUS CONTEST
For the readers who want to star in their own Valentine's Special, NARR8 is hosting a Valentine's Contest where the winner will have their love story featured as a one-page comic on NARR8!! So awesome!
Runners-up will receive couples t-shirts. Also super cute!
For more details and to participate, readers can email their adventures in romance to valerio@narr8.me.
Valentine's contest submissions which is Monday 2/18 11pm PST and winners will be announced at the NARR8 GOES ANDROID LAUNCH PARTY in SF on Tuesday 2/19 at 111 Minna at the end of the 7-9pm NARR8 FAN FEST!

Source: MarketWire
---
---
Ad blocker interference detected!
Wikia is a free-to-use site that makes money from advertising. We have a modified experience for viewers using ad blockers

Wikia is not accessible if you've made further modifications. Remove the custom ad blocker rule(s) and the page will load as expected.