John Doerr
Talk

0
276pages on
this wiki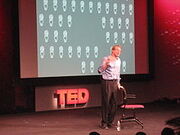 L. John Doerr
(born June 29, 1951 in St. Louis, Missouri) is an American venture capitalist at Kleiner Perkins Caufield & Byers in Menlo Park, California, in Silicon Valley. In February 2009, Doerr was appointed as a member of the President's Economic Recovery Advisory Board to provide the president and his administration with advice and counsel in fixing America's economic downturn.
Early life
Edit
One of five siblings, Doerr graduated from Chaminade College Preparatory in St. Louis. He obtained a Bachelor of Science and master's degree in electrical engineering from Rice University and an MBA from Harvard University in 1976.
Doerr joined Intel Corporation in 1974 just as the firm was developing the 8080 8-bit microprocessor. He eventually became one of Intel's most successful salespeople. He also holds several patents for memory devices.
He joined Kleiner Perkins Caufield & Byers in 1980, and since then, has directed venture capital funding to some of the most successful technology companies in the world including Compaq, Netscape, Symantec, Sun Microsystems, drugstore.com, Amazon.com, Intuit, and Google, as well as Friendster, GO Corp., and others.
Venture funding
Edit
Doerr funded Netscape, Google, Amazon, and Bloom Energy.[1]
He currently serves on the board of Google and on the boards of private ventures Amyris Biotech, Bloom Energy, iControl Networks, EGHC, Flo-Design, Miasole, M2Z Networks, V Vehicle and Spatial Photonics. He seeded Twitter nearly $150 million. His investment philosophy is "no conflict, no interest."[2]
Doerr co-founded and serves on the board of the New Schools Venture Fund, an education reform]] and charter public schools fund. And on TechNet, a policy network of high tech CEOs advocating education and litigation reform, and policies for the innovation economy. Doerr co-chaired California's Proposition 39 which lowered the threshold to approved school bonds, and Proposition 71 which created $3 billion funding for California research into stem cell therapies. He serves on the board of Bono's ONE campaign to fight global poverty, particularly disease in Africa. His success in venture capital has garnered national attention; he has been and is currently listed on Forbes magazine's exclusive "Midas List" and is widely regarded as one of the top technology venture capitalists in the world. [citation needed]
Forbes magazine estimates his net worth to be well over $1 billion. Doerr is a high profile supporter of the Democratic Party in Silicon Valley. Through the TechNet (lobbying organization) he helped found, he has devoted much time and money towards impacting legislation beneficial to the technology industry. [citation needed]
Doerr advocates innovation in clean energy technologies to combat climate change, and has written and testified on the topic. In a 2007 TED conference he cited his daughter's remark: "your generation created this problem, you better fix it" as a call to fight global warming.[3]
In 2008 he announced with Steve Jobs the Kleiner Perkins $100 million iFund, declaring the iPhone "more important than the personal computer" because " it knows who you are" and "where you are." In April 2010, he along with another iFund members announced an increase in iFund's value by another $100 million dollars making iFund the worlds biggest investment pool in cell phone application industry.[4]
He had also funded the initial investments in Bloom Energy Inc.
Economic Recovery Advisory Board
Edit
In February, 2009, Doerr was appointed as a member to the USA Economic Recovery Advisory Board by President Barack Obama to provide the President and his administration with advice and counsel in fixing America's economic downturn.[5]
Personal life
Edit
Doerr is married to Ann Howland Doerr. They live in Woodside, California with their children.
Recognition
Edit
In 1997, Doerr was named a Distinguished Alumnus of Rice University for his accomplishments in business.[6]
In 2009, Doerr was named a Fellow of the American Academy of Arts & Sciences.[7][8][9]
In 2010, Doerr was inducted into the California Hall of Fame.
Cite error: <ref> tags exist, but no <references/> tag was found