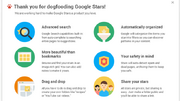 Google Stars is an upcoming service from Google which will replace the current bookmark feature in Google Chrome. The service is expected to come in the form a Chrome app, as well as possibly having its own standalone apps in Android and iOS as well. It will allow for an interface more similar to Google's Material Design standard, as well as including many additional features.
The official release date for the service is unknown. However, it is expected sometime in 2014.
Ad blocker interference detected!
Wikia is a free-to-use site that makes money from advertising. We have a modified experience for viewers using ad blockers

Wikia is not accessible if you've made further modifications. Remove the custom ad blocker rule(s) and the page will load as expected.