Google Base was a database by Google. It was announced at Zeitgeist '05: The Google Partner Forum, Google's invite-only event, held at their headquarters in Mountain View, California, from 25–27 October 2005. It has been discontinued and replaced with Google Merchant Center.
Google Base officially launched on November 15. See the Official Google Blog for details.
People are able to post their content, such as classified ads, recipes, and events, to the Google Base database. Early screenshots of the site stated that Google would "host your content and make it searchable online for free". Google Base will be publicly searchable, and relevant items would be included in the main search indices.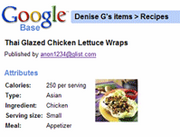 Four examples were given on the site previews in October of items that might in future be found in Google Base:
Description of your party planning service
Articles on current events from your website
Listing of your used car for sale
Database of protein structures
On the official Google Blog on October 25, 2005, Tom Oliveri, Product Marketing Manager, wrote "We are testing a new way for content owners to submit their content to Google, which we hope will complement existing methods such as our web crawl and Google Sitemaps."
Links on Google Base
Related files
News reports and blog posts (October 2005)
News reports and blog posts (November 2005)