Gmail
is
Google's
approach to email.
History
On April 1, 2004, when it launched, it caught the email industry off guard, offering 1 gigabyte. Hotmail had 10 megabytes, and Yahoo 25 megabytes. Of course, Hotmail and Yahoo tried to catch up by offering up to 100 megabytes.
On Google's one year anniversary, however, just when Yahoo was upping it to 1 gigabyte, Gmail caught the industry off guard again, announcing 2 gigabytes.
In early July 2009 Gmail exited beta status.
Size
As of October 11, 2010, Gmail users have 7,581 megabytes of storage and counting. This quota increases every second, slowly but surely. It is expected to get past 100,000 megabytes in a short time.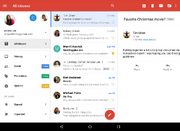 Features
Some features include:
Email address variations
if you have the email AccountName@gmail.com, then you can also use the following:
use dot(.) in your email account name to create a new one

Example: Account.Name@gmail.com, A.ccountName@gmail.com, Ac.cou.ntName@gmail.com, etc.

use a +suffix an the end of your email account name

Example: AccountName+spam@gmail.com, AccountName+01@gmail.com, AccountName+netflix@gmail.com, etc.
Keyboard shortcuts
An undocumented shortcut is the use of the # key to delete an email. (via Lifehacker)
Wayback Machine images
Commercial Gmail Blog
Latest posts from the Gmail Blog
Loading RSS data...
See also
External links