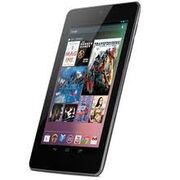 Android 4.1 Jelly Bean is a version of Android that was announced in June 2012 at Google's I/O conference. The main goal for the new version was to improve performance, functionality, and user interface. The Nexus 7 was released on July 11th, and was the first device to run Android 4.1. The first phone was the Galaxy Nexus, and soon after it received the new version, many other devices began receiving it as well.
The main features of the update are listed below.
Project Butter
Edit
Project Butter is one of the main new features of Android 4.1 Jelly Bean. Its purpose was to smooth out the user interface. The name related to the goal by making it "buttery smooth".
Google Now
Edit
Google Now was an update to the previously available Google Search app. It was accessible by swiping up from the bottom of the screen. It improved the search app by bring voice commands, and notification cards. The voice commands were minimal at first, and only capable of a very small amount of functions. However, more commands were soon added with updates to the app. Voice commands allow for things such as launching apps, sending emails, or texting. See the page on Google Now for a complete list.
The notification cards help to display relevant information, at a convenient time. Originally, they displayed things such as stock prices, weather, and upcoming appointments. They were also soon updated, which added many other types of cards.
Ad blocker interference detected!
Wikia is a free-to-use site that makes money from advertising. We have a modified experience for viewers using ad blockers

Wikia is not accessible if you've made further modifications. Remove the custom ad blocker rule(s) and the page will load as expected.